We recognize that all of our young patients are unique and deserve to receive dental care that reflects their individual needs. Our experienced and talented dental team is committed to working with you and your child to create a comfortable, stress-free, and rewarding dental experience every time you visit our practice. We are pleased to welcome you and your family, and we look forward to working with you.
---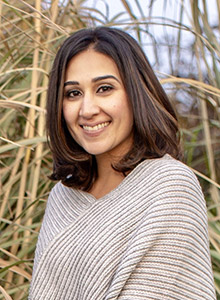 Amita
Office Manager
I oversee the day-to-day operations of the practice, allowing Dr. Ganjavi to focus on patient care. I strive to make each and every parent and patient feel appreciated, comfortable, and informed. I love working with children, seeing them grow and make progress with their dental health. My absolute favorite part of my job is when we have a patient who is timid and anxious transform to be confident and happy by the end of their appointment and excited to come back and see us again in six months.
I live in Loudoun County with my husband, son, and goldendoodle - Salty! We love to travel, especially to warm destinations with a beach. I must say that I hold a soft spot for Africa, where I grew up, and would travel back there every year if I could. We enjoy the outdoors and activities such as riding our bikes, hiking, and going to car meets. I also LOVE to cook and experiment in the kitchen!
Clinical Staff
Our clinical staff strives to make each patient feel calm and comforable while enjoying their time at our office. Katia is our wonderful dental assistant and she will make your child's experience so great they'll look forward to coming back! Our highly trained hygiene team includes Kelly and Ray. They aim to make your child's smile bright and beautiful while assuring they have a fun, positive experience. Our team also works to ensure that all tools are properly sterilized and that OSHA regulations are met so that we may continue to provide the highest-quality dental care to all of our patients.
Administrative Staff
Our administrative staff strives to address all of our patients' needs with regards to scheduling, billing, referrals, and insurances. When you walk in or call our office you will likely be greeted by Gaby our scheduling coordinator, or Karen, our insurance coordinator. It is their highest priority to ensure every patient feels welcomed and that all questions regarding treatment, insurance, or billing are answered. Please give us a call with any questions you may have pertaining to our office policies or services offered!
Billing Specialist
Amber is our amazing billing specialist! With over 20 years of experiance in the dental field, she is a fountain of knowledge and is always ready to share it. She loves to help our pateints clarify any questions they may have after recieving a statement. Please give her a call at our special designated billing phone line with any questions you may have pertaining to your statement. Just call our main office number and follow the billing prompts.